Ask Your Head Ref
Have questions, want answers? Please email questions for your Head Referee to: askyourheadref@mwsl.com
▲Top
Michelle Pye
MWSL Head Referee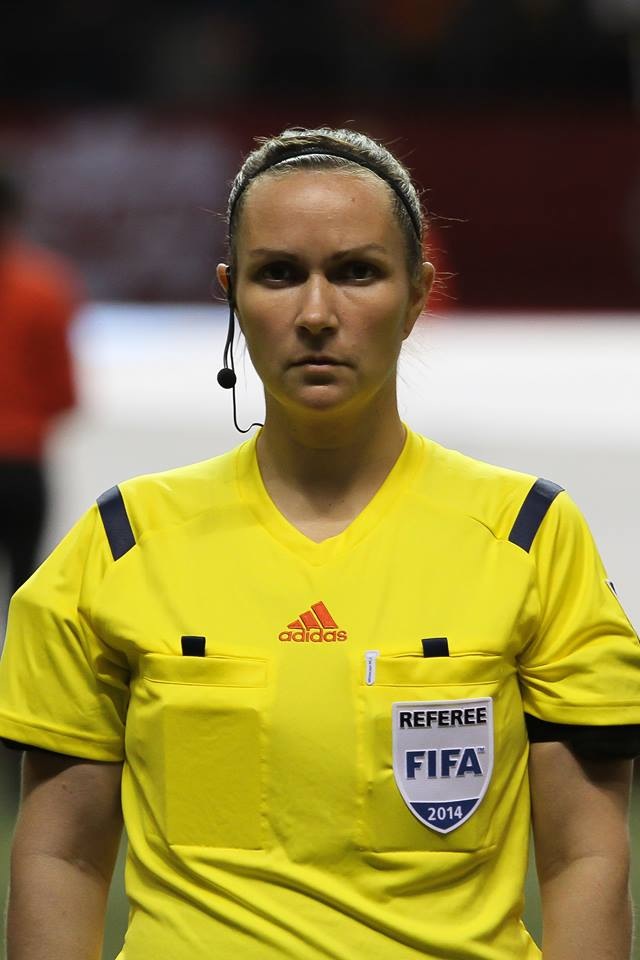 2007-present FIFA Referee; 2008 U17 CONCACAF Qualifiers (Trinidad); 2008 U17 FIFA World Cup (New Zealand); 2009 WorldUniversity Games (Serbia); 2010 FIFA Algarve Cup (Portugal); 2010 U17 CONCACAF Qualifiers (Costa Rica); 2010 FIFA Youth Olympics(Singapore); 2010 U17 FIFA World Cup (Trinidad); 2012 U17CONCACAF Qualifiers (Guatemala); 2014 U20 FIFA World Cup(Canada); 2014 CONCACAF CAC Games (Mexico)
Growing up in Kamloops BC, I played soccer all through my youth. At the age of 19, after seeing an ad in the local paper, my mom suggested that I take a refereeing course to help earn extra money while going to University. After finishing my Bachelor of Science Degree at TRU, I moved down to Vancouver to pursue an Education Degree. I continued my refereeing career that had begun in Kamloops when I moved to the lower mainland. In fact, my first game in Vancouver was in the MWSL!
Over the next few years I continued to referee in the MWSL and run lines in the VMSL. In 2006 I was nominated to the National Referee list and was fortunate to received my FIFA Referee badge in 2007. I struggled through an injury for most of 2007, and in 2008 I was appointed to my 1st ever international game – Canada vs Brazil at BMO Field in Toronto with 15, 000 fans! Since this game, I have been blessed with many amazing opportunities from both CONCACAF and FIFA. I have been to 3 FIFA Youth World Cups and been part of the final games in all 3!
I think the thing I am most proud of is the fact that I have been able to become a mother and still continue to referee at the highest level. In 2011 I took a year off to have my daughter, and in 2013 I took a second year off to have twin boys! Although it has been a struggle to return to match fitness, and keep up with all the expectations that come along with being a top-level referee, I wouldn't change it for the world. I am blessed with 3 beautiful children, an amazing supportive husband and a referee career that I am very proud of.
Tim Blaine
MWSL Referee Admin
Growing up in Montreal and Toronto meant playing hockey and baseball and skiing; it wasn't until moving to the west coast in 79 that organized soccer entered my life. A planned one-year experience in Whistler turned into a 34-year career as an elementary school teacher in Maple Ridge. My wife Wendy and I raised 2 multi-sport sons, but it was clear from early on that soccer was going to be at the center of our family life.
Over the last 27 years, I have served community soccer in a wide range of team, club and district positions. Now retired from teaching, I get to spend a lot more time around the beautiful game, from action on the local pitch to cheering madly from our Whitecaps seats to early weekend mornings tuned in to the European matches.
I am a BCSA District referee; while I have completed the upgrading clinic, it appears unlikely that this body is still capable of getting the 8 on the beep test for promotion to Regional status. Most Thursday evenings find me at the Candidates' sessions in Langley, deep in considerations, sanctions and restarts. My work with BCSA as a Referee Assessor and Instructor has been a most rewarding progression from my efforts in referee development over the last 10 years in the roles of Assigner and Head Referee with clubs in the Maple Ridge / Pitt Meadows area.
I have thoroughly enjoyed my officiating with MWSL over the last few years, and look forward to working with Michelle, officials and the board of directors to maintain and further enhance the outstanding reputation of this league.
I look forward to seeing you on the pitch!
▲Top
Q: What is a Handball?

A: Whether you are a player, a coach, a fan, or even a referee… hand balls seem to be the most misunderstood call in the game today. From week to week, and game to game, there doesn't seem to be consistency in how this Law is interpreted. Let me see if I can shed some light on the Hand Ball!

Here's what the Law says :
Handling the ball involves a deliberate act of a player making contact with the ball with his hand or arm. The referee must take the following into consideration:
* The movement of the hand towards the ball (not the ball towards the hand)
* The distance between the opponent and the ball (unexpected)
* The position of the hand does not necessarily mean that there is an infringement

Practically this is interpreted in this way:
* In order for a hand ball to be called the referee must determine that the player "deliberately" played the ball with her hand or arm. A ball that bounces up and hits a player in the hand while they are running and their hands are in a "natural" position, should not be called.
* If a ball is kicked from a short distance with good speed, and a player does not have time to move their hand out of the way, should not be judged as hand ball. (if the arm is in a natural position)
* If a player puts their arms out from their body, in an attempt to make themselves wider or taller, they should be called for hand ball as this is judged to be a deliberate act.
* The phrase "gaining an advantage" should NEVER be considered when determining if a hand ball was deliberate or not. If a ball accidentally bounces up and hits a player in the hand, and the hand is in a natural position, it does not matter where the ball ends up… even if it drops right to her feet.
* If a player moves her hands up to block her face from the ball and the ball strikes her hand/arm, this can be judged as a deliberate act as she should have had time to turn her head if she had time to raise her arms.

In a perfect world, referees would all make this call the same way, thus removing the confusion and contradictory way in which we view the hand ball. Unfortunately, this is not, and probably will never be the case. The Hand Ball Law is the only law where referees must judge the "intent" of the player, rather than the "action," this in itself creates a huge grey area that is difficult to remove.